On Wednesday 30 March 2016 we had the EPI reading competition and after that we ate pancakes, which we baked in the school kitchen and they were very good. Why Pancakes? Because in the UK they have every year an event called Pancake Day. We should have it on Tuesday like in all other countries but we couldn't so we had it on Wednesday.
Anyway Pancake Day or Shrove Tuesday is a special day celebrated in many countries around the world. It is celebrated 47 days before Easter Sunday in English-speaking countries like the UK, Ireland, Australia and Canada. In some countries, like France and the USA, it is called 'Mardi Gras' or 'Fat Tuesday'. In other countries, like Spain, Italy or Brazil, Shrove Tuesday is at the end of Carnival. On this day many people eat pancakes, a thin, flat cake made in a pan.
Look there are the master chefs.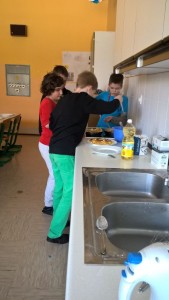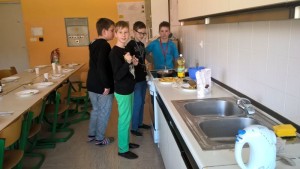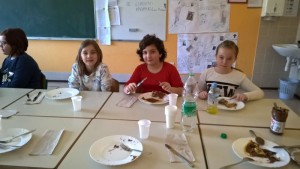 IF YOU DON'T KNOW THE RECIPE WELL HERE IT IS:
2 cups all-purpose flour
1 1/2 tablespoons extra-fine granulated sugar
pinch of salt
1 egg
2 egg yolks
2 1/2 cups milk
2 tablespoons vegetable oil, divided
1/2 stick (1/4) cup unsalted butter
granulated sugar, lemons, and oranges for garnish
OUR OPINIONS:
My opinion: I tink we did a very good job. We made delicious pancakes and ate them all with chocolate cream.
Mihaela's opinion: She thinks we did it great, she liked the pancakes and the work shop afterwards.
Sinaj's opinion: He thinks it was good.
All the pupils liked to cook in the school kitchen. They also were interested in the workshop after our lunch and enyoid the afternoon in school.
Luka Forjan, 7. class